Oh, no! Coco Chanel – was a Nazi spy?
(Read article summary)
Hal Vaughan's new biography, "Sleeping with the Enemy: Coco Chanel's Secret War," argues that Coco Chanel was an anti-Semitic Nazi spy who went on secret missions for the German government.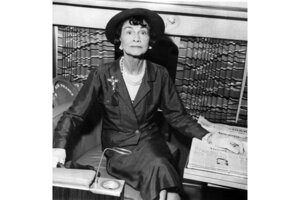 AP
When most people think of Chanel, the first things that come to mind are little tweed suits and quilted bags. Not Nazis.
However, a new biography of the famed designer, "Sleeping with the Enemy: Coco Chanel's Secret War," by Hal Vaughan, released this week, makes a case that Coco Chanel was a Nazi spy who even went on secret missions for the Nazis during World War II.
There have been rumblings of Chanel's dealings with the Nazi regime for some time now. It's well known that Chanel used anti-Semitic legal discrimination to wrest ownership of the Chanel No. 5 perfume away from the Jewish brothers who formulated it.
But while most biographers have agreed that Chanel certainly interacted with the Nazis, Vaughan goes one step further in claiming that Chanel was a Nazi spy herself.
The Associated Press reports that Vaughan, looking around in French police files, found a report that indicated that during the war France believed Chanel was a Nazi agent with the code name "Westminster," and that led Vaughan to do further investigating.
During the war Chanel stayed in the Paris Ritz hotel, then under Nazi control, with Baron Hans Guther von Dinklage, a military intelligence officer. Vaughan goes on to claim that the Nazis recruited Chanel and sent her on a mission to Spain, in exchange for the release of her nephew from a military internment camp.
---