Are we awash in a sea of fabricated reviews?
(Read article summary)
Increasingly, writers-for-hire are paid to write glowing online reviews of books they haven't read.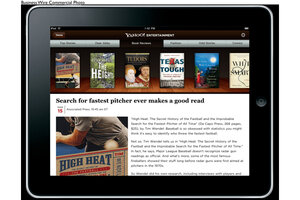 Yahoo! Inc.
That book? Oh, we loved it. Gripping, suspenseful, couldn't put it down. A real page-turner.
Sound like an online review you recently read? It might be a fake.
From Amazon to Trip Advisor to Yelp, we're awash in a sea of fabricated reviews, according to a recent piece in The New York Times.
"As online retailers increasingly depend on reviews as a sales tool, an industry of fibbers and promoters has sprung up to buy and sell raves for a pittance," writes David Streitfeld in his piece, "In a Race to Out-Rave, 5-Star Web Reviews Go for $5" .
If sounds, sadly, like the slick operations of an under-the-table ninth-grade history-paper-writing scheme.
Independent companies hire people to write glowing reviews of things they know nothing about – including books they haven't read – for a quick buck, then sell those reviews to online retailers.
"For $5, I will submit two great reviews for your business," pitched an entrepreneur on the help-for-hire site fiverr, reported the Times. On another forum, Digital Point, a poster wrote, "I will pay for positive feedback on TripAdvisor." A Craigslist post proposed this: "If you have an active Yelp account and would like to make very easy money please respond."
---