Maru the cat hopes to be the next literary sensation
(Read article summary)
Maru's videos have already gone viral. Will his book follow?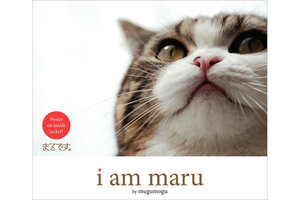 The next literary mega star doesn't play Quidditch or have a dragon tattoo. He doesn't solve mysteries or go on great adventures. In fact, as far as we can tell, he doesn't speak English.
He does, however, meow.
Maru, the feline YouTube sensation from Japan whose irresistible eyes, white glove paws, and adorable antics have drawn more than 100 million views online, is hitting a bookstore near you.
"I Am Maru," a full-color photo book of the beloved cat known as Maru, hits stores Tuesday. The book is written by Mugumogu, described as Maru's "roommate," who blogs about Maru.
Maru's story began on October 25, 2008, when Mugumogu entered a video of Maru in action to a YouTube contest. The video went viral. Ever since, cat lovers the world over have been watching the feline sensation squeeze into tiny boxes, leap at dangling toys, and jump and skitter with delight. And he's got enough YouTube videos to make a young starlet jealous – 180+ videos, his own YouTube channel, and more than 114,481,360 views this month alone!
"I Am Maru" appears to be the first attempt at converting the success of viral videos into a book. It's success could unleash a whole new genre of online sensations-turned-books.
---