Project Gutenberg founder Michael Stern Hart: an e-book visionary
(Read article summary)
Hart was a college student in 1971 when he first glimpsed the potential of the e-book.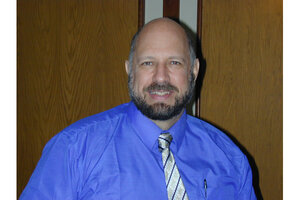 In today's world, e-books are everywhere – on the subway, in the library, on line at the post office, and even on a sunny beach.
But in 1971, such accessibility and popularity was unimaginable. Yet that was when Project Gutenberg founder Michael Stern Hart – who died on Sept. 6 – started typing historical documents into a computer network.
Today, the website Project Gutenberg offers over 36,000 e-books for free download, with a library that includes "The Adventures of Sherlock Holmes," "Peter Pan," and "A Tale of Two Cities." The books – which are are digitized and proofed by volunteers – can be downloaded to a PC, Kindle, and Android as well as other devices. Many are in the public domain.
Hart was still a college student in 1971 when he uploaded his first document, the Declaration of Independence, borrowing on $100,000,000 of computer time on a large mainframe computer at the University of Illinois, where he was a student. Six members in the network downloaded the Declaration, which reinforced Hart's belief that there was a demand for important historical documents being available over a computer.
The documents uploaded to Project Gutenberg were foundational texts at first, such as the King James Bible. But then Hart heard about a group of children eagerly reading "Alice in Wonderland" on the computer and realized the potential for digitized literature.
Today, the website comprises three sections: light literature, which includes titles like "Alice in Wonderland" and "Aesop's Fables"; heavy literature, which comprises titles like "Moby Dick" and "Paradise Lost"; and references, which includes dictionaries.
---