Amazon tablet could offer best reading experience
(Read article summary)
Though it will have to compete with the massive success of the iPad, a rumored Amazon tablet could be cheaper and offer a better ebook reading experience.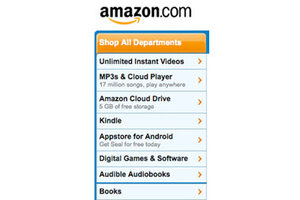 Ask many readers for their reaction to reports that Amazon will be releasing a tablet device and you're most likely to hear: "Another one?"
Since the massive success of the iPad, other tablets like the BlackBerry PlayBook and the Samsung Galaxy Tab have been springing up seemingly everywhere, with several other companies announcing releases for their own tablets over the next several months.
And the Amazon tablet is just rumors so far – executives still haven't confirmed it even exists except for instructions to "stay tuned."
Since there haven't been any official announcements, there are only rumors to go on, but in The Wall Street Journal is reporting that, "[P]eople familiar with the device" said the tablet would have a nine-inch screen and will run on Google's Android platform. It can be assumed that, like many other tablets, the Amazon version will have access to music, movies and, of course, books – though the online book giant would have to figure out how to avoid cutting into Kindle sales.
Having a tablet would be a step forward for the company in terms of the movies, TV shows, and music that have been offered on their website for quite some time but had no device to match up to it. And according to reports cited in PCMag, the Amazon tablet will be offering the best reading experience of any tablet available, so Amazon would be staying somewhat true to its focus on books.
---