Ron Suskind's critical book on Obama sparks controversy
(Read article summary)
Some sources now say that scathing remarks about Obama and his administration are "fiction [and] distortion."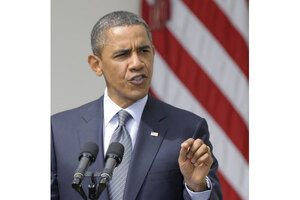 Susan Walsh/AP
From the point of view of the White House, there's really no ideal time for a negative book about an incumbent administration to be released.
But there are could hardly by a worse moment for the presidency of Barack Obama, who's currently battling shrinking approval ratings, a wheezing economy, and daunting reelection prospects. So the release of "Confidence Men: Wall Street, Washington and the Education of a President" by Ron Suskind – the same journalist who wrote three image-tarnishing books about former president Bush – isn't exactly being viewed as a welcome event by the West Wing. Quite the contrary: Politico writer Mike Allen, who spoke with White House officials about the book, says the administration has launched an "aggressive" response to the book, with some sources claiming to have been misquoted.
Suskind says he conducted 746 hours of interviews with over 200 people, including a 50-minute interview with the president himself. In the book, Obama is derided by former members of his economic team, including Lawrence H. Summers, a former chairman of the National Economic Council and U.S. Treasury Secretary under former president Clinton. In the book, Summers is quoted as telling the budget director Peter Orzsag, "We're home alone. There's no adult in charge. Clinton would never have made these mistakes."
Suskind says that the actions of Summers and U.S. Treasury Secretary Timothy Geithner "had contributed to the very financial disaster they were hired to solve" in the book, according to a New York Tiimes article.
---