Did Ron Suskind get it wrong in 'Confidence Men'?
(Read article summary)
Journalist Ron Suskind is being criticized for inaccuracies and misquotes in 'Confidence Men,' his book on the Obama White House.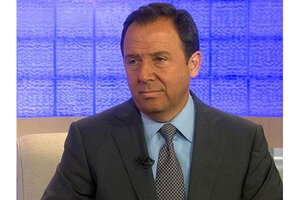 As his controversial new book hits shelves today, Ron Suskind is increasingly coming under fire for inaccuracies and misquotes alleged by the White House. As the storm builds over "Confidence Men: Wall Street, Washington, and the Education of a President," it's difficult to determine – on both sides – where truth ends and image begins.
In an interview on NBC's Today Show this morning, Mr. Suskind defended his book as "picture perfect" and "solid as a brick" even as host Ann Curry recited a series of refutations from those quoted in the book.
"Confidence Men" paints a picture of President Barack Obama's lack of leadership and sometimes-dysfunctional White House economic team's learning on the fly in the midst of an economic crisis. The Pulitzer Prize-winning Suskind says he conducted 746 hours of interviews with over 200 former and current people in the administration, including 50 minutes with the President himself. Some of those administration officials are now saying they've been misquoted.
---