Kindle's e-books come to community libraries
(Read article summary)
Readers with Kindles or the Kindle app can now download e-books from their libraries free of charge.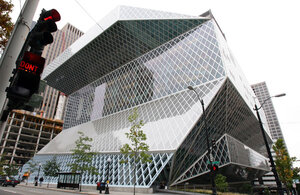 GABRIEL BOUYS/AFP/Getty Images/Newscom
Readers with a little less spending money may have previously shied away from Kindle e-books in favor of the free paper-and-ink books available at their public libraries.
But now that could change: Amazon announced today that Kindle books will be available for lending at more than 11,000 public libraries for no charge – the same way you'd be able to check out any paper-and-ink book at your local branch. The e-books can be read on any Kindle device or phone or tablet that has the Kindle app.
"Libraries are a critical part of our communities," said Jay Marine, director of Amazon Kindle, about the new service in a press release from Amazon.
While digital downloads of e-books have been available at libraries for some time now, this marks the first time that e-books from Kindle will also be available, and Bill Ptacek, director of the King County Library System in Washington, said the popularity of the Kindle device means this will be a big change for the demand in library e-books. The King County system as well as the Seattle Public Library offered a beta version of the system before it became widely available.
"It's a big deal for us because so many of our patrons have purchased Kindles, and they've been asking for the longest time," said Ptacek in a blog item for the Seattle Times.
---