Dead Sea Scrolls are now available for online viewing
(Read article summary)
The text on the ancient scrolls, which are kept in a vault in Jerusalem, is still being studied by scholars.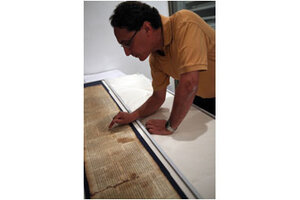 GALI TIBBON/AFP/Getty Images/Newscom
Five of the Dead Sea Scrolls were made available online today as part of a partnership between Google and the Israel Museum, the widest access to the scrolls that has ever been given to the public.
The scrolls, which contain the Book of Isaiah that is printed on the Great Isaiah Scroll and the supposed details of God's instructions to Moses, among other texts, can now be viewed using a zoom feature, searched for a specific word or passage, and translated into English. Photographer Ardon Bar-Hama took digital pictures of the scrolls for the project.
"They are of paramount importance among the touchstones of monotheistic world culture, and they represent unique highlights of our Museum's encyclopedic holdings," James S. Snyder, director of the Israel Museum, told the Daily Telegraph.
---