Will users of Amazon's Silk browser be trading privacy for efficiency?
(Read article summary)
Amazon's Kindle Fire's cloud-based web browser, Silk, is already raising questions from security experts.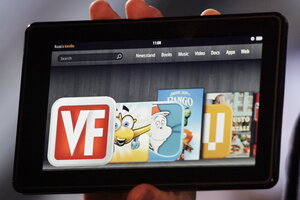 Mark Lennihan/AP
Just one day after its unveiling, Amazon's Kindle Fire's cloud-based web browser, Silk, is already under fire by security experts and privacy advocates for endangering the confidentiality of user data.
For many techies, the coolest part of the Fire isn't the device itself, but the software, specifically Amazon Silk. The web browser uses the ultra-high speed connectivity of Amazon's Elastic Cloud Computing (EC2) service to make page load times significantly shorter. When a user navigates to a webpage, Silk offloads a portion of the work to Amazon's servers to speed up load time – which means that the user will connect to Amazon instead of directly to a website.
Amazon itself explains this in its Amazon Silk Terms & Conditions: "The content of web pages you visit using Amazon Silk passes through our servers and may be cached to improve performance on subsequent page loads."
The problem? That also gives Amazon a complete record of your Web browsing history. Those same Terms & Conditions also reveal that, along with your browsing history, Amazon will log IP and MAC addresses, which it can store for up to 30 days.
What's worse, even secure HTTPS connections, like online banking, will go through Amazon. Theoretically, there should be no interruption in the chain between you and any secure HTTPS site you visit. When you use Silk on the cloud (default mode on the Fire), Amazon will be a middleman even in these so-called secure connections.
---