Walter Payton abused painkillers, had affairs, claims new biography
(Read article summary)
Walter Payton's family says of the recent disclosures about the football star: "Some [are] true, some [are] untrue"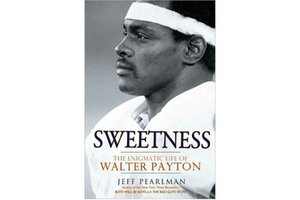 A new book on football star Walter Payton claims that the Hall of Fame inductee running back abused drugs, had affairs, and threatened to commit suicide.
Sports author Jeff Pearlman's book, titled "Sweetness: The Enigmatic Life of Walter Payton," will be released next week. Payton's family and teammates have already responded to the book's allegations.
"Walter, like all of us, wasn't perfect," a statement issued and signed "Connie Payton and family" reads. "The challenges he faced were well known to those of us who loved and lived with him. He was a great father to Jarrett and Brittney and held a special place in the football world and the Chicago community. Recent disclosures – some true, some untrue – do not change this. I'm saddened that anyone would attempt to profit from these stories, many told by people with little credibility."
---
Follow Stories Like This
Get the Monitor stories you care about delivered to your inbox.