Amanda Knox: the latest "it" girl of publishing
(Read article summary)
Two big questions for the publishing world: Will the newly freed Amanda Knox write a book – and how much does the public care?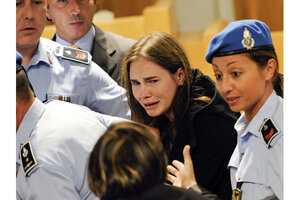 Lapresse
If there's an "it" girl in publishing right now, it's Amanda Knox.
As soon as she was cleared of murder charges in Italy on Monday, she became the most sought-after interview, with ABC, CNN, CBS, NBC and others clamoring to get the first lucrative sit-down with the American exchange student.
Almost as quickly, publishing insiders began jockeying for position for a possible – some say inevitable – book deal.
There's plenty to write about. A salacious story of sex, drugs, and murder abroad, Ms. Knox's case has attracted international fascination. The American exchange student was acquitted Monday in a Perugia, Italy, court of the murder of Meredith Kercher, her British roommate, bringing an end to a four-year case that whipped up a media frenzy in its final months. In the case, and in breathless media reports about it, Knox "was variously portrayed as a lying, manipulative temptress or an innocent abroad who became unwittingly caught up in a gross miscarriage of justice," writes the Monitor's Nick Squires.
---