Martha Stewart's daughter Alexis: a less-than-gracious look at life with Martha
(Read article summary)
Martha Stewart insists her daughter's book is all in good fun and encourages her viewers to buy it.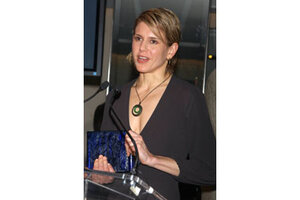 Stephen Trupp/Newscom
Alexis Stewart – daughter of Martha Stewart – will soon be releasing a book with details about growing up with her famous mother. The book's title is "Whateverland: Learning to Live Here."
The book, which was co-written with Jennifer Koppelman Hutt, is scheduled for release on Oct. 18 and contains many details – some of them unflattering to her mother and many out of line with her image as a domestic goddess.
"Martha does everything better! You can't win!" Alexis wrote. "If I didn't do something perfectly, I had to do it again… I grew up with a glue gun pointed at my head."
The book includes Alexis claiming that there was "never anything to eat at my house. Other people had food. I had no food.... There were ingredients but no prepared food of any kind." Halloween, at their house, writes Alexis, was bleak. "There were no costumes. There was no anything. We turned off all the lights and pretended we weren't home."
Alexis wrote that Stewart would make her wrap her own Christmas presents.
"She would hand me things right before Christmas and say, 'Now wrap these but don't look inside,' " she wrote.
Stewart responded to the book yesterday on her show, seeming to be nothing but happy with its contents and saying that she had already read an advance copy.
---