"I, Steve": an "instant" book offers more than 200 quotes from Steve Jobs
(Read article summary)
Like Walter Isaacson's official biography of Steve Jobs, "I, Steve" is being rushed into publication this month.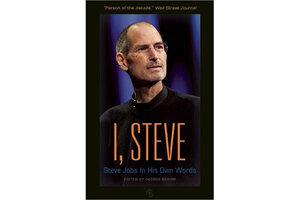 Just days after the death of Steve Jobs, a book on the Apple co-founder is being rushed into print. We're not talking about the authorized biography written by noted author Walter Isaacson, which The Hollywood Reporter says is already poised to become the bestselling book of 2011. That bio was indeed moved up – it's now scheduled for an Oct. 24 release – but it's joined by "I, Steve," a book of Jobsian quotations. CNET says the quotations collection by Agate Publishing, originally scheduled for release in 2012, will now be shipped next week.
The selection of more than 200 quotes from Jobs was "culled from press releases, statements, public appearances, and interviews over the years," according to CNET.
The book's publisher, Doug Seibold, told ABC News that he sees the quotations book as a companion piece to the Isaacson biography. "I very much see the book as an homage to Steve Jobs," he told ABC in an email, "and what really drew me to the project was the realization that Jobs is indisputably the most remarkable business figure of the past three decades, and that there was real value in collecting his public statements for the sake of all those people who will find insight and inspiration in them."
---