Mysterious children's book gets new stories from a star-studded cast of authors
(Read article summary)
Chris Van Allsburg's "The Chronicles of Harris Burdick" now has accompanying stories by Stephen King, Sherman Alexie, and others.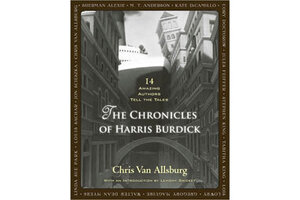 Everyone who's read Chris Van Allsburg's "The Chronicles of Harris Burdick" has made up stories in his or her head to go along with the strange pictures and single-line captions that accompany them.
And now, famous authors are sharing the stories they've created: writers such as Stephen King, Sherman Alexie, Lois Lowry, Gregory Maguire, Kate DiCamillo, and many others have written stories to accompany the pictures in Allsburg's book. Illustrations include a nun floating in a chair in mid-air with a caption reading "The fifth one ended up in France"; a harp near a river with a caption of "So it's true, he thought, it's really true"; and an open window in a room decorated with bird-covered wallpaper that has a caption reading "It all began when someone left the window open."
"The Chronicles of Harris Burdick" was first published in 1984, with a mysterious introduction by Van Allsburg that says a man named Harris Burdick dropped off these illustrations, the titles of the pages, and their captions at the home of Peter Wenders, a publisher of children's books. Burdick, according to Van Allsburg (who created the book's fictional premise), promised to return the next day with the text to accompany the illustrations – but never came back.
Van Allsburg told Publishers Weekly that he's received stories to accompany the illustrations from thousands of children.
"I had hoped that people would look at the pictures and appreciate their strangeness, and that a small part of the audience might feel compelled to solve their mysteries," he says. "But a very large part of the audience responded that way, and that's gratifying."
The new version of the book, which will be released Oct. 25, includes a story by Van Allsburg as well as the stories by other authors, who were each given the opportunity to choose an illustration to write about. (Van Allsburg wrote about the illustration that was left over.)
---