Occupy Wall Street: the book is coming soon
(Read article summary)
OR Books says it will release a history of the Occupy Wall Street movement in December.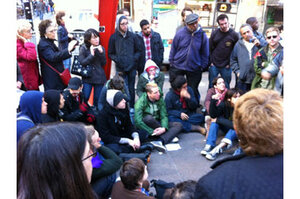 Photo by Adam Scull/Newscom
As offshoots of the Occupy Wall Street protests continue to spring up around the country, the publishing company OR Books has announced that it will release a history of the movement titled "Occupying Wall Street: The Inside Story of an Action that Changed America."
OR Books said the book will be written by Writers for the 99%, a collection of writers and researchers who have expressed support for the movement, and will be released Dec. 17. The date will be the three-month anniversary of the movement.
OR Books co-founder Colin Robinson told New York Magazine that they hoped to chronicle the events of the protest more than news coverage or any other accounts have so far.
"Although you can't deliver definitive opinions at the moment or set out a course of action, you can record the details of what has happened so far in Zuccotti Park," Robinson said.
OR Books stressed on its website that the book is not an authorized account of the Occupy Wall Street events. Robinson told the Huffington Post that the book will openly support the movement.
"While events are still fresh in people's minds, what we can do is put together their recollections on what happened," Robinson said of the decision to write the book now. "People's perception does change over time, which is one of the reasons for doing something so quickly. There's a kind of rawness to the fact that it won't have the benefit of hindsight to it."
Robinson said he could not define who the Writers for the 99% were at this time, but that there were several well-known authors involved. The writers will interview participants, then compile the content into a collective story. Robinson told New York Magazine that organizers of the protests had expressed "a fair amount of support for the idea."
He told the Huffington Post that the unusual style of writing the book, with the content of the book being decided by a consensus of movement participants who attend their meetings, is something he's never tried before.
---
Follow Stories Like This
Get the Monitor stories you care about delivered to your inbox.