Barnes & Noble new Color Nook: Could it compete with the Kindle Fire?
(Read article summary)
The bookseller may be announcing a Nook device intended go head to head with the Kindle Fire – if such a thing is possible.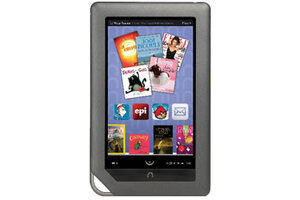 Staples, Inc./Business Wire
Many are speculating that the Barnes & Noble event scheduled for Monday, Nov. 7, will be the announcement of a new Nook model, possibly an update of the Nook Color. The question is: With Amazon's Kindle Fire and the Kobo Vox tablet both scheduled for release over the next weeks, will a new Nook device be able to catch consumers' attention?
It'll have to come in with important new features to divert the market away from the Kindle Fire and the still-dominant iPad. Jared Newman of PC World says one of the most important factors in a Kindle Fire-new Nook battle would be a competitive price from the new Nook.
"It's a given that Barnes & Noble's next tablet must match the Kindle Fire on price," Newman writes on PC World. "Failing that, it'll have to offer a larger tablet – with a 10-inch screen, for instance – to attract consumers who are turned off by the Kindle Fire's smaller screen."Jack Gold, an analyst at J. Gold Associates, also told Computer World that "availability of content" would be a big factor in enabling a new Nook to measure up to the Kindle Fire. Newman suggested that Barnes & Noble could make a deal with Netflix to have streaming content that could compare with Amazon Prime's instant videos that offer movies and TV shows.
---