Tantalizing glimpses of 'The Hobbit' in 3-D
(Read article summary)
A new video from 'Hobbit' director Peter Jackson explains the technical aspects behind filming in 3-D and shows Elijah Wood, Ian McKellan, and others in character.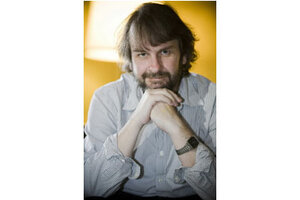 Chris Park/STR/AP
The fourth video in Peter Jackson's video blog series about the making of "The Hobbit" movies arrived Friday, with lots of information on 3-D for film aficionados as well as a few tantalizing glimpses of scenes and characters guaranteed to delight "Lord of the Rings" fans.
Jackson, who is directing the two "Hobbit" films, has been releasing videos from the set on his Facebook page. The movies are titled "The Hobbit: An Unexpected Journey" and "The Hobbit: There and Back Again." "Unexpected Journey" arrives in theaters December 2012.
The newest video focuses on the process of filming the movies in 3-D.
"Shooting 'The Hobbit' in 3D is a dream come true," Jackson says near the beginning of the video. "If I had the ability to shoot 'Lord of the Rings' in 3D, I certainly would have done it."
During the video, Jackson shows the 48 RED EPIC digital cameras that are being used and to which Jackson has assigned names, using names of family members, pets, in addition to John, Paul, George, and Ringo – "who are not relations of mine," Jackson adds. The video also features conceptual art directors Alan Lee and John Howe, who famously illustrated the "Lord of the Rings" books, sketching conceptual art for the films in 3-D, wearing red and blue 3-D glasses.
The video shows other aspects of filmmaking that are affected by shooting in 3-D and at 48 frames per second, which is twice the normal rate for movies. It shows one example in Mirkwood, a mysterious forest from the books that has to be painted in bright reds, greens, and purples so the colors of the trees won't be washed out by the cameras. "They look like they were painted in 1967," Jackson tells the camera.
---