Is Amazon's Kindle Lending Library a breach of contract?
(Read article summary)
Some writers are up in arms that Amazon's Kindle Lending Library is offering their books for free.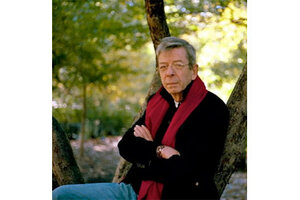 Courtesy of Leigh LeDare/Alongqu
Amazon released its Kindle Lending Library earlier this month to great fanfare. Amazon Prime members can borrow e-books from among more than 5,000 titles, including "Water for Elephants," "Moneyball," and "A Reliable Wife." Not a bad deal if you're a Prime member.
The problem? Many of the authors of the books included in the lending library – like "A Reliable Wife's" Robert Goolrick – found out at the same time that users did that Amazon was offering their books for free. Amazon says it is entitled, under contracts it entered into with select publishing houses, to include titles in the Lending Library. Authors are angry that Amazon included titles without telling them, but because the online books behemoth sells so many books for publishers, it's a delicate situation.
So begins a contentious contract battle between authors, publishers, and Amazon that's causing quite a stir in the books trade.
"Amazon ... appears to be boldly breaching its contracts with these publishers," said the Authors Guild, which represents writers, in a statement on its website. "This is an exercise of brute economic power."
---