George Harrison's sister Louise plans a book about the Beatles
(Read article summary)
Louise Harrison's new book will detail the band's rise to fame and offer insight into Harrison's later years.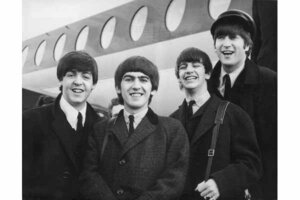 With the tenth anniversary of Beatle George Harrison's death yesterday, Harrison's sister Louise says she's planning to write a book about her famous brother. She says she's hoping to correct inaccurate accounts that have been released over the years.
"So much garbage has been written about George and the Beatles," she told the Sarasota Herald-Tribune. "I think it's my duty to get the truth out."
Harrison, who is now 80, says she will be able to bring a perspective no one else would because of her closeness to her brother and her memories of the Quarrymen and the Beatles when they were a fledgling band.
"Half of the stuff has been written by people who spent maybe an hour on a plane with the Beatles," Harrison said in an interview with the Herald-Tribune. "There's been all kinds of myths and fantasies written about them. At least I have some facts to go on, because I was there – from even before they were the Beatles."
Harrison said she hopes to include never-before-seen photos as well as letters between herself and her brother. She says she'll also provide insight into how the Beatles started on their meteoric rise to fame, including how, she says, she was the one to convince them to make their historic appearance on "The Ed Sullivan Show." Harrison was already living in America at the time.
---