More books, more choices: why America needs its indies
(Read article summary)
Farhad Manjoo thinks corner bookstores are simply comfy and quaint. He couldn't be more wrong.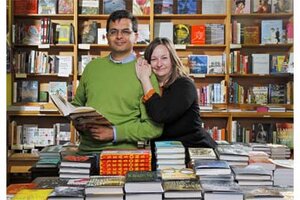 Tony Avelar/Christian Science Monitor
This week, the novelist Richard Russo wrote an op-ed column for The New York Times disparaging Amazon's recent pricing promotion. The column went on to talk more broadly about Amazon and independent booksellers. In response, Slate published a piece entitled Don't Support Your Local Bookstore by Farhad Manjoo. In his article Manjoo tells his readers "if you're a novelist – not to mention a reader, a book publisher, or anyone else who cares about a vibrant book industry – you should thank him [Jeff Bezos, founder, president, and CEO of Amazon] for crushing that precious indie on the corner."
At the heart of both authors' pieces is the question of what best promotes a literary or book-reading culture. Not surprisingly, both articles have received passionate responses from readers and inspired thousands of comments online.
Manjoo says that the "bread and butter" of local bookstores is the same "mass-manufactured goods whose intellectual property was produced by one of the major publishing houses in Manhattan. It doesn't make a difference whether you buy Walter Isaacson's Steve Jobs at City Lights, Powell's, Politics & Prose, or Amazon – it's the same book everywhere."
It does make a difference, but not for the reasons Russo lauds or Manjoo disparages.
---