Walter Dean Myers chosen as new YA literature ambassador
(Read article summary)
The prolific author says he hopes to convey to students that reading is a necessity, not an option.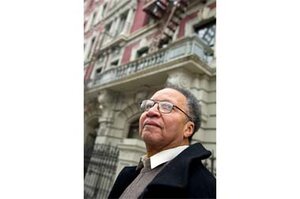 Young adult author Walter Dean Myers was this morning named as the newest National Ambassador for Young People's Literature, a position previously held by authors Jon Scieszka and Katherine Paterson.
Myers' books are known for their darker content, often including adult language and realistic depictions of young people facing adult-sized challenges like war and involvement with crime. Myers, who has written more than 50 books and is a five-time winner of the Coretta Scott King Award for African American authors, said he thinks his choice of subject matter will help him to bring a different experience to the position than previous ambassadors, though he was quick to praise his predecessors who he says did a great job.
"I think that Jon and Katherine were admirable," Myers told the School Library Journal. "I think that I can be riskier in what I bring to the position because of who I am, but I don't feel our message is that much different."
Executive director of the Children's Book Council Robin Adelson told The New York Times that she thinks the real-life focus in Myers' books will make kids relate to him.
---