New book on Obamas says there were clashes between Michelle and aides
(Read article summary)
The White House says 'The Obamas' by Jodi Kantor "reflect[s] little more than the author's own thoughts."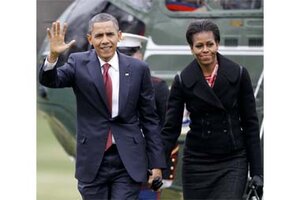 Haraz N. Ghanbari/STF/AP
A new book about the Obamas by New York Times reporter Jodi Kantor is creating controversy for its portrayal of the president and the First Lady as well as sections of the book the White House says are inaccurate.
The book, titled "The Obamas," is set for release this week. Kantor's book says there were clashes between Michelle Obama and Rahm Emanuel, the White House's former chief of staff. There were disagreements between Michelle Obama and Robert Gibbs, who served as press secretary and adviser to the president, says "The Obamas."
The president and Michelle Obama declined requests to be interviewed for the book. Kantor says the book came from talking with 30 aides who have worked or are currently working at the White House.
Eric Schultz, spokesman for the White House, said the book is an "over-dramatization."
"The emotions, thoughts and private moments described in the book, though often seemingly ascribed to the president and first lady, reflect little more than the author's own thoughts," Schultz told the Associated Press. "These secondhand accounts are staples of every administration in modern political history and often exaggerated."
---