'Noir City' organizer Eddie Muller on the evolution of the genre he loves
(Read article summary)
'Czar of Noir' Eddie Muller talks about the hard-boiled crime fiction that inspired film noir.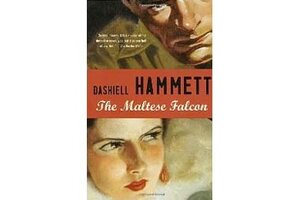 A darkness has descended over San Francisco.
The streets hold an extra menace, while the alleys beckon you into their wicked grip. Whatever you want, you can't have it – at least not for long.
To borrow a phrase, it's a bitter little world.
Well, until Sunday, anyway. That's when the 10th annual Noir City film festival comes to an end.
Each year the festival spotlights the dark and often-depraved movies known as film noir. Festival organizer Eddie Muller, an author known as the "Czar of Noir," attracts sold-out crowds each night to a 1920s movie palace in the Castro neighborhood.
Some of the films are familiar to movie buffs, including classics like "Laura" and "The Maltese Falcon." But the festival focuses on lesser-known films that have fallen into obscurity but still pack a punch.
This year's festival highlights several films based on the work of mystery author Dashiell Hammett, who sat in his tiny San Francisco apartment and created the character of Sam Spade, the hard-boiled private eye who helped turn Humphrey Bogart into a star.
---