'Hunger Games' heroine Katniss Everdeen becomes – a Barbie doll?
(Read article summary)
Mattel will release a plastic version of the fierce 'Hunger Games' heroine later this year.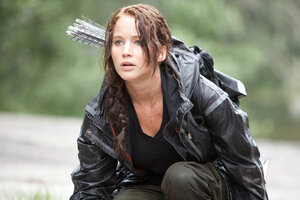 Murray Close/HONS/Lionsgate/AP
In your dose of irony for the day, toy company Mattel recently announced that a Barbie version of "Hunger Games" heroine Katniss Everdeen is due to be released soon.
The doll is only the latest in a slew of "Games" merchandise that's been produced to accompany the new movie. Other items have included action figures of main characters, nail polish (which also seems a an odd match with the dystopian world of Suzanne Collins' trilogy), multiple book tie-ins, and even a workout class titled "Train Like A Tribute," to be offered in New York, Boston, Philadelphia, and other cities.
Dolls of other popular movie and TV characters like "Twilight"'s Bella Swan and "Mad Men"'s Don Draper as well as doll versions of real-life figures like Duchess of Cambridge Kate Middleton have been created, but a plastic Katniss seems like an odd fit for many, especially since some associate the Barbie brand mostly with sequined outfits, small plastic high heels, and luxurious toy cars.
---