'The Snowy Day' celebrates its 50th anniversary
(Read article summary)
Fifty years after the publication of 'The Snowy Day' with its young African American protagonist, there's still a surprising lack of diversity in children's books.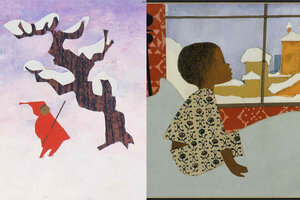 In 1962, a little boy named Peter woke up to a world full of snow. Putting on an orange snowsuit, the little boy ran outside: "Crunch, crunch, crunch, his feet sank into the snow." Thus begins The Snowy Day, the 1962 picture book written and illustrated by Ezra Jack Keats. This March marks the 50th anniversary of the Caldecott Medal-winning story that has enchanted readers for decades.
Peter's wondrous day full of snow angels and snowballs is something so many children can relate to. Peter is also African American. And with this quiet, yet significant illustrative decision, made in the midst of the Civil Rights movement, Keats's book became the first full-color, mainstream picture book to feature a black boy as the main character.
A critical – if not uncontroversial – success, Keats received letters from fans across the country, including the poet Langston Hughes, who wrote that he wished he had some grandchildren to give the story to. One reviewer in The Baltimore Sun commented, "The fact that the artist has pictured Peter as a Negro child, quite without making any particular point of it, is a pleasant surprise."
The character of Peter was based off a set of photos clipped from a 1940 issue of Life magazine. For 22 years, Keats kept those photos on his wall, hoping to be asked to illustrate a book about such a boy. But it wasn't until he decided finally to write a book himself was he able to use them.
Deborah Pope, Executive Director of the Ezra Jack Keats Foundation, is careful to point out Keats wasn't trying to make a big statement.
---