"The Little Red Guard": inside a Chinese family
(Read article summary)
Wenguang Huang's memoir about his childhood in Mao's China tells a universal story of the bonds of love – and the pangs of regret – which can shape a family.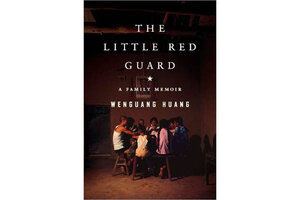 At the age of 71 Wenguang Huang's grandmother began obsessing over the question of her funeral. She wanted a grand send-off, in a coffin, and a burial in the countryside of her childhood. To a Westerner none of this may seem problematic. But in Mao's China, where Huang's family lived, elaborate funerals and burial in a coffin were against the law. Thus began a battle between Maoist and Confucian values that would engulf the entire Huang family for years. Recently I spoke with Huang about his childhood and his new memoir The Little Red Guard in which he recalls – with bittersweet humor – a childhood spent sleeping next to a contraband coffin. Here are some excerpts from our conversation:
Q. Your grandmother started thinking of death at the age of 71. One of the saddest ironies is that your dad – who sacrificed everything to make her hopes about her funeral come true – actually died first. What did your family lose as a result of your dad's focus on this strange mission?
My father's whole attention was directed toward the question of my grandmother's coffin. A lot of times he really did not have too much time for us. And we were always worrying about saving money [for funeral preparations]. My brother needed help with his studies at school and we never really paid too much attention to that. I wanted to play the violin. And my father always said, "No, we have to save for Grandmother's funeral." And my sister would want to go to see a movie. But my dad was very frugal and would say, "Oh, we have to save for Grandmother's funeral." And he focused so much on the coffin that in a way he neglected my mother.
Q. Yet much later, as an adult, you realized that this obsession of her father's shaped your life in many positive ways as well.
---