'The Hobbit': a glimpse of the studios (+ video)
(Read article summary)
A behind-the-scenes video shows "The Hobbit" actors and crew hard at work inside the studios.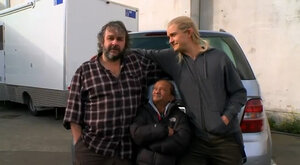 Peter Jackson/YouTube screenshot
The seventh in the "behind-the-scenes of 'The Hobbit'" video series arrived today, with the production team taking viewers into the studios where the two movies are being filmed.
There are a couple of glimpse of the movies themselves, including a look at actors on the set just before they begin filming a scene in the troll's cave (the camera tantalizingly cuts away just before shooting begins), as well as footage of the ensemble filming the sequence in which hobbit Bilbo Baggins and his dwarf companions escape elf stronghold Mirkwood by floating down a river in barrels, and a brief sighting of a dwarf walking through a forest that is on fire.
The video begins again with director Peter Jackson, this time driving into the Stone Street Studios, which is otherwise closed to the public during filming. (The area was also a production site for the "Lord of the Rings" trilogy and Jackson's version of "King Kong.")
"It kind of feels a bit like I'm driving the tram through Universal Studios," Jackson says later as he points out the various buildings to the camera.
---