Author band the Rock Bottom Remainders calls it quits
(Read article summary)
The Rock Bottom Remainders, which includes writers Stephen King and Dave Barry, will play their last two shows this weekend in California.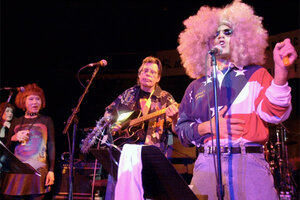 Michael Dwyer/AP
Author supergroup the Rock Bottom Remainders will be playing their last concerts this weekend after two decades together.
The band will perform one show in Los Angeles on June 22, which is also the date of their twenty-year anniversary, and a second in Anaheim on June 23 at the American Library Association convention. Only those attending the ALA convention will be able to attend the second show.
The final lineup for the concert will be writers Stephen King, Dave Barry, Ridley Pearson, Sam Barry, Amy Tan, Mitch Albom, Matt Groening, Scott Turow, James McBride, Greg Iles and Roy Blount, Jr. All proceeds from the show will go to charity, which has been the rule for every Remainders show.
---