James Lee Burke discusses 'Creole Belle' and the end of 'traditional' America
(Read article summary)
'Creole Belle' author James Lee Burke talks about the inspiration for his new book and his detective protagonist Dave Robicheaux.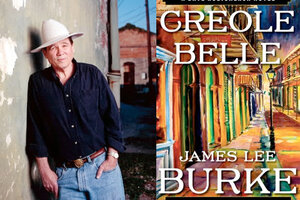 L: Courtesy of Robert Clark/Simon and Schuster
When readers last saw Cajun detective Dave Robicheaux, in the final pages of the 2010 novel "The Glass Rainbow," he had just been shot in a bloodbath at his home on Louisiana's Bayou Teche.
This month, Robicheaux returns in James Lee Burke's 19th book in the series, "Creole Belle." It picks up where the previous book left off, with Robicheaux in a recovery unit in New Orleans. Morphine clouds his head and, even more than usual, the self-aware detective struggles to separate the past from the present.
Burke, 75, creates lyrical mysteries with what can only be described as deceptive ease. Whether it's Robicheaux, stand-alone novels, or separate series starring Texas cousins Billy Bob and Hackberry Holland, the themes remain constant. Every novel Burke writes delves into moral ambiguity, the menaces of greed and violence, the degradation of people and land, the juxtaposition of natural beauty and man-made horror and, finally, the sublime joy of human love and loyalty.
No matter his digressions, Burke's stories retain tight plots amid the languid descriptions and observations of corruption and conceit. Robicheaux made his creator wealthy, taking readers into both rural and urban Louisiana (the detective is a former New Orleans cop who still ventures into the big city) and offering insight on a landscape that is literally disappearing.
Burke spent much of his early life on the Gulf Coast shuttling between Texas and Louisiana and later moved to New Iberia, La., the setting for the Robicheaux books. The author and his wife, parents of four grown children, including crime novelist Alafair Burke, have long split their time between Louisiana and Montana.
---