Amazon's Sara Nelson chats about her favorite August books
(Read article summary)
Amazon's Sara Nelson discusses a few of Amazon's top picks for August.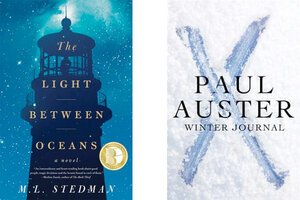 Looking for a book to settle in with as you soak up the last of the summer sun? Each month, Amazon releases its list of the 10 books that its staff thinks are the best of the month. The August 2012 list includes everything from a nonfiction title about sleeping to a tale of poisonous cheerleaders.
"We get together about twice a month to ... yell at each other about what we liked and didn't like," Sara Nelson, editorial director of books and Kindle for Amazon.com, said of the process of selecting the top 10. We talked with Nelson about the August list and what's caught her eye this month.
The spotlight book for August is "The Light Between Oceans" by M.L. Stedman, the author's debut novel, and Nelson said she thinks it's one to watch for the upcoming month.
"We're really crazy about that book," she said. "I expect that that's going to be a big player."
"The Light Between Oceans" tells the story of a man who works as a lighthouse keeper on a remote island where he lives with his wife, Isabel. The two have tried to have a baby but have encountered only miscarriages. Then, one day a boat arrives on the island carrying a dead man – and a living baby. Isabel persuades her husband that they should keep the child and raise it as their own. That decision, however, proves to have consequences the couple could not possibly have foreseen.
"It's this very atmospheric book," Nelson said of the novel.
Another standout in Nelson's eyes is the novel "Dare Me" by Megan Abbott, who is the author of previous books "The End of Everything" and "Queenpin," among other titles. "Dare" centers on cheerleaders in their senior year of high school who find their lives disrupted by a new coach.
"They make the 'Mean Girls' movies look like Disney," Nelson said of "Dare." "It's a dark book… I don't have a teenage daughter, but if I did, I'd lock her in the house."
---