Marilyn Monroe: Anything but a dumb blonde
(Read article summary)
Writer Sarah Churchwell says the real Marilyn was smarter, tougher and a better actress than we think.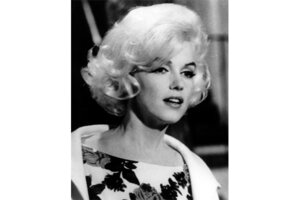 AP
Rumor has it that Marilyn Monroe is the topic of hundreds of books. Instead of throwing another biography onto the pile, a professor in the United Kingdom named Sarah Churchwell did something different: she analyzed what others have written about the biggest sex symbol of all time.
In her 2004 book "The Many Lives of Marilyn Monroe," Churchwell dives deep into the depths of myths and facts surrounding this deceptively simple woman.
Monroe's death alone – five decades ago this weekend – has spawned an endless array of theories from accident to assassination to suicide. "Each of these endings concludes its own plot," Churchwell writes, "and each plot differs in key respects – yet they all insist that theirs is the true story of Marilyn Monroe's life."
The next few days will bring another onslaught of Monroe stories. (Call it the Fifty-Year Itch.) I contacted Churchwell and asked her to put this extraordinary American phenomenon into perspective.
So here's Marilyn. All about Marilyn, in fact, to borrow (sort of) a phrase.
Q: Here we have a woman who was an actress, who was scorchingly pretty, and whose life was messy, to say the least. That describes countless Hollywood stars and wannabes, both before and since.
What has made her such an object of fascination?
A: I think Marilyn said it best herself, in her final Life interview: "These girls who try to be me, I guess the studios put them up to it, or they get the ideas themselves. But gee, they haven't got it. You can make a lot of gags about it like they haven't got the foreground or else they haven't the background. But I mean the middle, where you live."
---