Haruki Murakami: early leader in Nobel Prize predictions
(Read article summary)
British gambling site Ladbrokes puts Japanese author Haruki Murakami at odds of 10/1 for the Nobel Prize in Literature.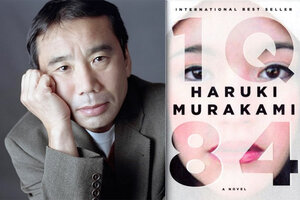 L: Elena Seibert/Knopf
It's the Kentucky Derby of literature, the Super Bowl of bibliophiles, the most bet-on literary competition of the year. The announcement of the Nobel Prize in Literature may be months away, but bet-placing is in full swing. In the top spot with 10/1 odds is Japanese novelist Haruki Murakami, according to British gambling site Ladbrokes.
If past precedent is any indication, it might just be a good bet. Last year the prize was awarded to Swedish poet Tomas Transtromer, who was Ladbroke's second favorite with initial odds of 9/2 (just behind Syrian poet Adonis, at 4/1). Interestingly, Murakami was a favorite last year, too, with odds at one point hitting 8/1.
The author of "Norwegian Wood" and "The Wind-Up Bird Chronicle," Murakami is perhaps best known for his recent "IQ84," an epic trilogy that sold millions in Japan and the US. As we wrote in an earlier Chapter & Verse post, his novels "often feature defiant protagonists who run against the orderly, group mentality predominant in Japanese culture…. Like his protagonists, Murakami is a vocal critic of Japanese policy, particularly its reliance on nuclear power." The Nobel Prize is often a political statement as much as a literary one, and in this increasingly anti-nuclear climate, Murakami's views won't go unnoticed.
---