Yet more literary furor over fake book reviews
(Read article summary)
British crime writer R.J. Ellory is the latest author to be caught out writing glowing online reviews of his own work.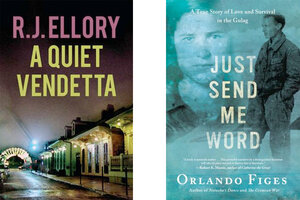 You may not have heard of him, but British crime writer R.J. Ellory's "ability to craft the English language is breathtaking." One of his crime novels has been called "a modern masterpiece" that "will touch your soul." He is, in fact, "one of the most talented authors of today."
That is, at least, according to R.J. Ellory.
Over the Labor Day weekend, the bestselling British author was caught praising his own books on Amazon using a number of pseudonyms while slamming the books of his competitors. Ellory used at least two pseudonyms, including "Nicodemus Jones" and "Jelly Bean," to heap praise on his works, including "A Quiet Belief in Angels," an award-winning 2008 book which the author himself called "a modern masterpiece," and "chilling," saying, "Whatever else it might do, it will touch your soul," according to industry newsletter Shelf Awareness.
Astonishingly, this practice went on for the past 10 years before fellow British thriller writer Jeremy Duns pieced together a case against Ellory and shared his suspicions via Twitter. Confronted, Ellory admitted to using pseudonymous handles to write his own glowing reviews on Amazon, a practice known as "sock puppeting."
"The recent reviews – both positive and negative – that have been posted on my Amazon accounts are my responsibility and my responsibility alone," Ellory said in a statement. "I wholeheartedly regret the lapse of judgment that allowed personal opinions to be disseminated in this way and I would like to apologise to my readers and the writing community."
Since then, writes the LA Times, "a furor has erupted in England over sock puppet Amazon reviews" and quickly spread to American shores. A group of 49 British authors wrote an open letter to the Daily Telegraph condemning sock puppeting.
---