Judge approves a settlement between DOJ and publishers in landmark opinion
(Read article summary)
Will the court's decision trigger an e-book price war?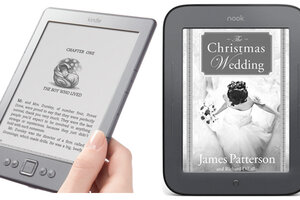 It's being called "a move that could reshape the publishing industry" and "a decision that could start an e-book price war."
Late Thursday, Federal Judge Denise Cote approved a settlement between the Justice Department and three major publishers in a landmark opinion in the e-book price-fixing case.
The settlement includes Hachette Book Group, Simon & Schuster, and HarperCollins and orders the three publishers to terminate their contracts with Apple within a week. It also orders them to terminate contracts with "most favored nation" clauses, which prohibit other retailers from selling books for less. The publishers must also refrain for two years from entering any new contract that puts limits on a retailer's ability to price e-books.
The settlement comes as a result of the Justice Department's accusation that Apple and five publishers illegally conspired to fix the price of e-books in an attempt to unseat Amazon from market dominance. Penguin Group USA, Macmillan, and Apple did not agree to the settlement and will fight the suit in court next summer.
---