'Where'd You Go, Bernadette' author Maria Semple talks about her new book
(Read article summary)
Semple shares the moment that she knew she was onto something good with 'Where'd You Go, Bernadette' and tells us what inspired a pivotal plot point.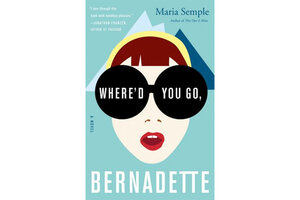 Where did mother and former star architect Bernadette Fox disappear to, right before her family was due to leave on a trip to Antarctica? It's the question her daughter Bee is trying to answer in the new book "Where'd You Go, Bernadette" by Maria Semple, author of "This One Is Mine" and former TV writer for shows like "Mad About You" and "Arrested Development."
In "Bernadette," Bee searches for her mother by combing through documents, secret letters, and e-mails. As Bee looks for the truth, Semple skewers the city of Seattle and the hyper-involved parenting style embraced by the adults at Bee's private school, with whom Bernadette butts heads repeatedly before her disappearance. This includes one mother who nags Bernadette about clearing out blackberry vines that have grown over onto her property.
In an interview with the Monitor, Semple, a Seattle resident, discusses the reaction her Seattle neighbors have had to her book, the exact moment she knew she was onto something good with her "Bernadette" manuscript, and why it makes sense that "Arrested Development" has found success on DVD. Here are excerpts of the conversation. (Spoilers for "Bernadette" follow.)
Q: What appealed to you about TV writing?
A: My father was a screenwriter and I kind of grew up in that world. I always had a mind for characters and dialogue, and my head was filled with that stuff, so it seemed like a good place to start.

Q: To discuss one of the TV shows you wrote for, what was your favorite part about writing for "Mad About You"?
"Mad About You" fit my sensibility the most of any show that I worked on, and as a result, it was really fun. It felt like a very natural fit.
---