Chinese writer Mo Yan wins the Nobel Prize for literature
(Read article summary)
Mo Yan, whose real name is Guan Moye, is the first Chinese citizen to win the award.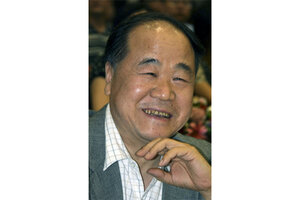 AP
Chinese author Mo Yan became the first Chinese citizen in the Swedish Academy's 111-year history to win the Nobel Prize in literature when he was awarded the prestigious prize Thursday. (Gao Xingjian, who won the prize in 2000, was born in China but was a French national when he won the award.)
"Through a mixture of fantasy and reality, historical and social perspectives, Mo Yan has created a world reminiscent in its complexity of those in the writings of William Faulkner and Gabriel García Márquez, at the same time finding a departure point in old Chinese literature and in oral tradition," the award's citation declared, describing him as a writer "who with hallucinatory realism merges folk tales, history, and the contemporary.
Mo Yan, whose real name is Guan Moye ("Mo Yan" is a pen name meaning "don't speak"), told Nobel organizers he was "overjoyed and scared" when he was told he had won the coveted award.
Once called "one of the most famous, oft-banned, and widely pirated of all Chinese writers," Mo Yan is known for his depiction of rural Chinese life, particularly its women, which populate many of his novels, short stories, and essays. His novel "Red Sorghum," about the life of a young woman working in a distillery, was made into a film directed by Zhang Yimou, which became one of the most internationally acclaimed Chinese films.
---