China transforms Nobel Prize winner's hometown into a theme park
(Read article summary)
The area will be known as the Mo Yan Culture and Experience Zone, but author Mo Yan remains ambivalent about the new attraction.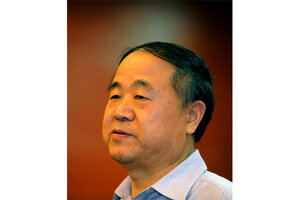 AP
Step aside Dickens World, Popeye Village Fun Park, and Wizarding World of Harry Potter.
If you're looking for literary fun of the contrived, manufactured, theme park variety, there's a new game in town.
Following the Nobel Prize win of its native son, Mo Yan, China is planning to transform the Nobel winner's hometown, the sleepy, rural village of Ping'an (population: 800), into a $110-million Mo Yan Culture and Experience Zone.
The national, and perhaps international, attraction will center on Mo Yan's childhood home, a modest mud structure with newspaper-covered walls.
Also in the works is a Red Sorghum Culture and Experience Zone and a Red Sorghum Film and Television Exhibition Area based on the author's 1987 work, "Red Sorghum." By government mandate, that attraction would have real peasants cultivating 1,600 acres of real sorghum. (Never mind that the undesirable, unprofitable crop hasn't been cultivated in decades.)
As we reported after his Nobel win, Mo Yan is known for his depiction of rural Chinese life, particularly its women, which populate many of his novels, short stories, and essays. His novel "Red Sorghum," about the life of a young woman working in a distillery, was made into a film directed by Zhang Yimou which became one of the most internationally acclaimed Chinese films.
Chinese authorities, it seems, have appropriated Mo Yan's house, literary success, and indeed, Mo Yan himself, for the theme park project.
---