National Book Awards go to 'The Round House' and 'Behind the Beautiful Forevers'
(Read article summary)
The National Book Awards were given to writers Louise Erdrich and first-time author Katherine Boo in the fiction and nonfiction categories, respectively, while William Alexander and David Ferry were awarded the young people's literature and poetry prizes.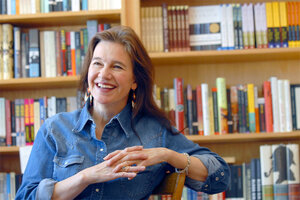 Dawn Villella/AP
Writer Louise Erdrich, author of "The Round House," and "Behind the Beautiful Forevers" author Katherine Boo captured the big prizes at the National Book Awards this year, with Erdrich taking home the prize for fiction and Boo capturing the nonfiction award.
Erdrich's novel tells the story of a boy of Ojibwe descent who struggles to come to terms with the rape of his mother on a reservation in North Dakota. "You've heard of paint by number?," wrote Monitor fiction critic Yvonne Zipp, commenting on the novel's powerful language. "Erdrich paints word by word." (Check out the entire Monitor review here.) During her acceptance speech, Erdrich, who is also of part Ojibwe descent, spoke briefly in the Ojibwe language during her acceptance speech before using English to dedicate her fiction prize to "the grace and endurance of native people."
"This is a book about a huge case of injustice ongoing on reservations," Erdrich said, according to the New York Times. "Thank you for giving it a wider audience."
The author also thanked her daughters.
---