Apple and Flipboard team up to bring more books to iOS devices
(Read article summary)
Via Flipboard, the new version of the app also lets users see what titles are popular in other countries.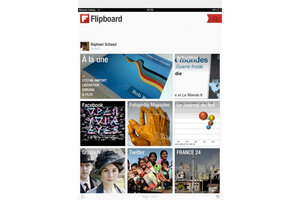 Flipboard/PR Newswire
Grab a coffee, sink into a comfy chair and start browsing the most popular books of the season – all from your phone or tablet.
Thanks to a new partnership between Apple and Flipboard, the mobile app that lets users customize and access news in one place, Apple's iBookstore is now available for browsing on your iOS device.
The app's new Books category features 25 genres pulled from Apple's iBookstore, including Bestsellers, Fiction Nonfiction, Biographies & Memoirs, Cookbooks, Humor, Comics & Graphic Novels, and Sci-Fi & Fantasy.
"Reflecting as many genres as there are sections, it's like browsing in a bookstore, right from your Flipboard," Flipboard said in its launch announcement.
Here's how it works: the new Books category is available via Flipboard on all iOS devices (iPhone, iPad, iPod) in the U.S., U.K., Canada, Australia, France, Italy, Spain, Germany, the Netherlands, and Brazil.
---