'The Baby-sitters Club' novels will get e-book releases
(Read article summary)
The first 20 books in the popular children's series by Ann M. Martin will be released in electronic format on Dec. 1.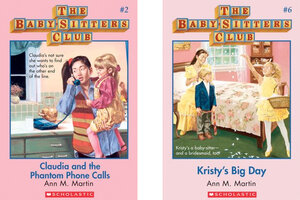 America's favorite babysitters will come to iPads and Kindles everywhere starting next month when the first 20 books in Ann M. Martin's children's series "The Baby-sitter's Club" are released in e-book format.
The series follows a group of mainly female middle school students who create a babysitting club in which parents can call and get whichever club member is available for the time they need versus having to call eight different babysitters separately. The books start out with four girls belonging to the club, and membership fluctuates during the series as members move away or quit, with several new students joining over the course of the series.
The e-books will be released on Dec. 1 and have the original covers from the series' first publication in the 1980s. Until the end of December, the series' publisher, Scholastic, will add new material on the books' Facebook fan page, including videos, photos and trivia as well as a new app through Facebook which will let "Baby-sitters" fans get a sneak peek at the e-books and take quizzes, among other activities.
The first book in Martin's series, "Kristy's Great Idea," appeared in 1986 and new titles appeared regularly until the 131st book, "The Fire at Mary-Anne's House," was published in 1999. The last book in the series, "The Summer Before," came out in 2010 and served as a prequel to the first book. The books were briefly out of print during the beginning of 2010 but were re-released before the publication of "The Summer Before" in May of that year.
---