Philip Roth's retirement from writing is mourned by a former student
(Read article summary)
A former Iowa Writers Fiction Workshop participant who studied under Roth wonders how a teacher who instilled in him a deep love of fiction can be throwing in the towel.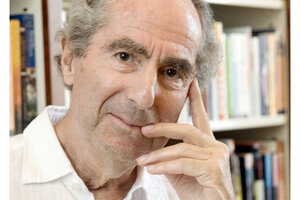 Richard Drew/AP
The recent news that iconic novelist Philip Roth has stopped writing fiction knocked me back half a lifetime, to the day I took my seat in the Iowa Writers Fiction Workshop and watched starry-eyed as a tall, intense young man entered the classroom, snapped the creases of his chinos and settled himself on the edge of the instructor's desk. "I'm Philip Roth," he announced.
Here in our makeshift barracks classroom in Iowa City was the precocious winner, for his fictions, of the National Book Award and O'Henry Awards, a high priest of the storytelling craft.
Of that time in his career, Roth would recall how, "still in my twenties, I imagined fiction to be something like a religious calling, and literature a kind of sacrament." And through two semesters, he changed my life not only as a career writer, but even more so as a reader of fiction. He instilled in my worshipful mind that fiction was the inner light. Over the years, he would confirm it for me in an avalanche of luminous novels and stories.
So it was bad enough when Roth told a London newspaper in 2011 that he had stopped reading fiction in favor of "other things." He was asked why. His quoted answer: "I don't know. I wised up."
The story rattled the literary world, fueling the endless debate over fiction's value in modern times. I was more than rattled then, and now, with Roth's declaration to a French magazine that he was through writing the stuff as well, I am staggered, staggered that he has thrown in the towel.
Unfair as it might be, given Roth's monumental contributions to the genre and his well-earned right to say, "It's enough!," I can't help feeling as if the Master – the patron saint of fiction for two generations – has let me down. Or that he's about to crack a grin in that long face and say, "Just kidding!"
---