An unusually candid picture of Sonia Sotomayor is reported to emerge from her memoir
(Read article summary)
Sonia Sotomayor's memoir "My Beloved World," scheduled for release in January, tells her rags-to-riches stories in more personal detail than might be expected from a Supreme Court justice.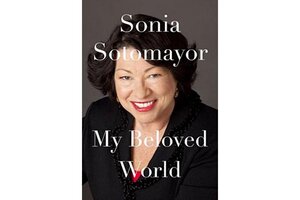 From the tenements of the South Bronx to the ivy towers of Princeton and Yale to the venerated chambers of the Supreme Court, Supreme Court Justice Sonia Sotomayor's rags-to-riches story is the focus of her forthcoming memoir, "My Beloved World," to be published by Knopf in January.
Sotomayor, the first Latina and third woman to be appointed to the Supreme Court, received an advance of nearly $1.2 million for the book, which will be published simultaneously in English and Spanish. According to the AP, which received an advance copy of the memoir, Sotomayor is unusually candid, recounting stories of losing her father to alcoholism and her cousin to AIDS, as well as explaining her own battles with diabetes, a disease which played a big part in her decision not to have children. One area into which the book does not delve: her years serving as a Supreme Court justice and as a US district and appeals court judge.
The children of Puerto Rican natives, Sotomayor grew up in a tenement in the South Bronx where English was rarely spoken. Her family was so poor that they never had a bank account, according to early reviews of the book. She was diagnosed with diabetes at just eight and lost her father to alcoholism when she was nine.
The 58-year-old's lifelong battle with diabetes colored much of her life. In the book she recounts several episodes in which she blacks out and is found unconscious, "including by a roommate at Princeton, a client in Venice, Italy, and a friend's barking dog."
---