'Les Miserables': Is the story of Jean Valjean a model for newly released inmates today?
(Read article summary)
I should have tried to get Jean Valjean into a couple of local prisons.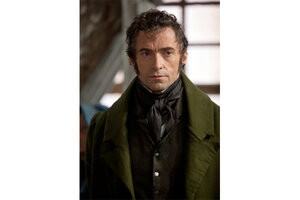 Laurie Sparham/Universal Pictures/AP
So, this guy tries to steal a loaf of bread, one lousy loaf. Gets caught. No public defender. Convicted. Serves 19 years as a galley slave. Hates the world. But a hundred and some years later, this convict becomes the male lead (top billing) in full-length feature film dramas (1934, 1935, 1952, 1958, 1982, and 1998), a 1952 TV movie, a TV miniseries in 2000, and a pretty good 1995 cinematic knock-off. Then there's the long-running Broadway musical. A musical! You gotta be kidding, right?

Translate the above skepticism into argot that is typical in most American prisons today, and you would have the flavor of the response I got from my inmate-students when I ventured the possibility of having those in my in-prison English Composition class take on "Les Miserables." What was I thinking?

Well, with the blockbuster 2012 version mounting publicity barricades to fend off assaults (in the awards wars) from a Civil War epic, a secret military mission into Pakistan, and an Iran hostage rescue, my thoughts turned to the Victor Hugo classic (first published in 1862). I wish I had tried to get Jean Valjean into a pair of Connecticut and New York prisons.
---