Trips to heaven top bestseller lists
(Read article summary)
Books like 'Proof of Heaven' by Eben Alexander are experiencing blockbuster sales with no signs of slowing down.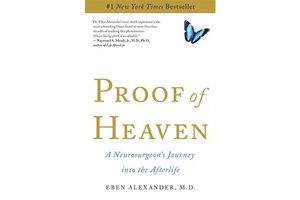 There's a hot new literary genre being formed. The skeptical are calling it "Heaven Tourism" but for millions of readers it's proving a very real lure. Suddenly, accounts of near-death trips to heaven are all over the literary bestseller lists.
As USA Today notes, current bestsellers "Heaven Is For Real" by Todd Burpo with Lynn Vincent, "Proof of Heaven" by Eben Alexander, and "To Heaven and Back" by Mary Neal all detail their authors' alleged experiences of heaven and what they saw there and all have drawn large and enthusiastic audiences.
No matter readers' religious views, it appears many are curious about the authors' accounts.
While they have similarities, each of the stories is unique.
In "Heaven is For Real," Burpo writes about the experiences of his son Colton who says that – during an emergency appendectomy while he was 3 – he went to heaven and met Jesus, John the Baptist, his great-grandfather, and his sister who died when his mother suffered a miscarriage, an event his parents say they never told Colton about.
Burpo said in an hour-long program about the book that he is telling the truth about his son's journey.
"As a pastor and as a dad, I want my son to know I tell the truth," Burpo said during the program. "He can read the book. He knows if I exaggerated or if I didn't."
Alexander, a neurosurgeon, went into a coma after being diagnosed with meningitis and says that while he was unconscious he met a beautiful woman whom he describes as a guide who brought him into another world. Alexander says he saw God and that he doesn't believe God has a gender.
---