'Mafia Summit' explores a historic – and disastrous – meeting between Mob leaders
(Read article summary)
Federal law enforcement arrested dozens during a meeting between Mafia leaders near the New York-Pennsylvania border, as explored by writer Gil Reavill in his book 'Mafia Summit.'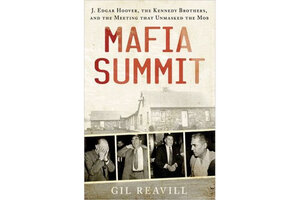 On a November day in 1957, dozens of big-time mobsters from across the country and beyond gathered near New York's border with Pennsylvania for a commission meeting.
Robert's Rules of Order weren't in effect. But Murphy's Law – if anything can go wrong, it will – definitely worked its magic.
Thanks to an eagle-eyed state trooper, federal law enforcement swooped in on the confab at a mobster's estate, arresting dozens and sending fancy-suited mobsters fleeing into an unfriendly forest.
The meeting didn't spell the end for organized crime, which exists to this day. But it did mark the demise of an era in which mobsters often had more to fear from each other than the long arm of the law.
A nemesis and future attorney general named Robert F. Kennedy rose from this crucible. There was more: public awareness (never mind FBI director J. Edgar Hoover's epic denial) and racketeering laws that turned out to be as incredibly useful as the tax regulations that tripped up Al Capone.
Gil Reavill, an author and screenwriter, tackles the events of that day in Apalachin – pronounced "Apa-lay-kin," not like the mountain range – in his new book Mafia Summit: J. Edgar Hoover, the Kennedy Brothers, and the Meeting That Unmasked the Mob. It's a gritty and fast-moving account that punctures the myth of the honor-bound mobster and exposes the nasty, rotten business of organized crime.
---