Mark Zuckerberg's sister Randi Zuckerberg plans memoir about working at Facebook
(Read article summary)
Randi Zuckerberg, who served as the company's marketing director, will release a memoir titled 'Dot Complicated' as well as a children's book.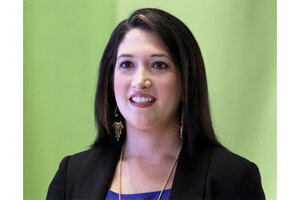 Richard Drew/AP
Facebook founder Mark Zuckerberg's sister, Randi Zuckerberg, will be publishing a memoir about her time spent working at her brother's company.
Randi Zuckerberg was employed at Facebook as director of marketing before she left to found Zuckerberg Media, her production studio. The deal she made with publisher HarperCollins includes the memoir as well as a picture book for children which she will also be writing.
Zuckerberg worked at Facebook for six years and was among the first 25 employees to work at the company.
"I am thrilled to be working with HarperCollins to share some of my own crazy experiences on the front lines of social media and to inspire people of all ages to embrace technology, as well as the new set of social norms that come along with it," she said in a statement.
---