'Etiquette and Espionage,' a steampunk YA title, garners strong reviews and sales
(Read article summary)
'Etiquette and Espionage' continues the steampunk trend also seen in author Cassandra Clare's bestselling 'Infernal Devices' series.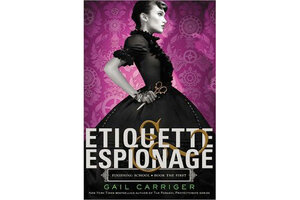 Is there a new young adult mega-hit in the making?
Writer Gail Carriger's novel "Etiquette and Espionage" – the first in a planned quartet about a girl who attends finishing school and finds the institution is not what it seems – was released on Feb. 5 and is already garnering strong reviews as well as good sales.
"Etiquette and Espionage" follows Sophronia, a 14-year-old who is sent to Mademoiselle Geraldine's Finishing Academy for Young Ladies of Quality. The schools offers the kind of lessons you might expect – how to dance properly, the finer points of manners, etc. – but actually excels in the unexpected. The heart of Mademoiselle Geraldine's establishment is located inside dirigibles and teaches its pupils how to become spies as well as proper ladies.
Carriger has written for adults before. Her previous books made up a series titled the "Parasol Protectorate," which took place in a Victorian London which was peopled by werewolves and vampires. "Etiquette and Espionage" inhabits that same universe. The book was released by Little, Brown.
Etiquette and Espionage" made the New York Times young adult bestseller list on Feb. 24, taking the ninth spot, while Kirkus Reviews, Booklist and the School Library Journal have all given the title starred reviews.
"Carriger's YA debut brings her mix of Victorian paranormal steampunk and winning heroines to a whole new audience," Booklist wrote.
The retro-futuristic steampunk style continues strong in pop culture in general. It seems to fascinate readers of Cassandra Clare's bestselling "Infernal Devices" trilogy, the third title in which is scheduled for a March release this year. It has also been featured in movie theaters with the recent success of the rebooted "Sherlock Holmes" movies, which starred Robert Downey Jr. as the sleuth and Jude Law as his sidekick Watson and found them dodging lots of steampunk-style machines.
---