Catching up with award-winning LBJ biographer Robert Caro
(Read article summary)
Robert Caro's chronicle of LBJ's rise to the presidency has become the gold standard for presidential biographies.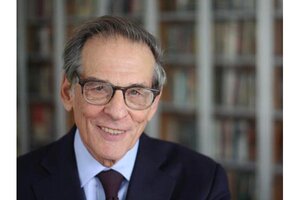 DAVIDSON, N.C. — Robert Caro likes to say that he isn't writing about Lyndon Johnson's life. Instead, the 36th president's tireless biographer says, he uses LBJ as a focal point to explore the use of power in the American political system.
That, of course, has led Caro to invest quite a bit of time and energy into the tiniest details of Johnson's life. Nearly four full decades, in fact.
Caro, as with the best writers, lives by the maxim of show, don't tell. The how and why obsess him, starting with a dirt-poor Texas Hill Country childhood and carrying through to the highs and lows of a White House tenure that includes staggering domestic achievements and debilitating foreign policy strategies and decisions.
Drawing on meticulous interviews with survivors and copious archival research, Caro, at 77, has become the standard-bearer for modern biography.
Four mammoth volumes into his LBJ biography, Caro keeps shedding new light on how Johnson leveraged a career in public office into a personal fortune; how he stole an election that could have ended his political career had he lost; and, most intriguing of all, how he counted votes, courted and confronted friends and enemies alike and, more often than not, got more than anyone considered possible in the halls of Congress.
---