Amazon's new imprints give opportunities to debut authors, short story writers
(Read article summary)
Amazon's Little A imprint will release novels, memoirs, and story collections, while Day One will focus on short stories and new writers.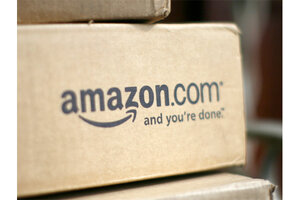 Rick Wilking/Reuters
Good news for novelists, memoirists, and especially short story writers: Amazon Publishing is open for business.
The online retailer-cum-publisher has launched two new imprints, a literary fiction imprint called "Little A" and a digital-only imprint, "Day One."
The imprints will give writers more choices, especially short story writers who often have few options for publishing their works. As Good E-Reader put it, "both [imprints] are meeting a tremendous need in the industry."
Little A will publish novels, memoirs, and story collections, including a spate of titles being released this month and throughout the year. They include "The Blue Book," by A.L. Kennedy; "The House of Rumor," by Jake Arnott; "The Magic Circle," by Jenny Davidson; "Godforsaken Idaho," by Shawn Vestal; "American Spirit," by Dan Kennedy; "The Exiles," by Allison Lynn; and perhaps the most high-profile, "Actors Anonymous," by actor James Franco, which is set to release Oct. 15.
---